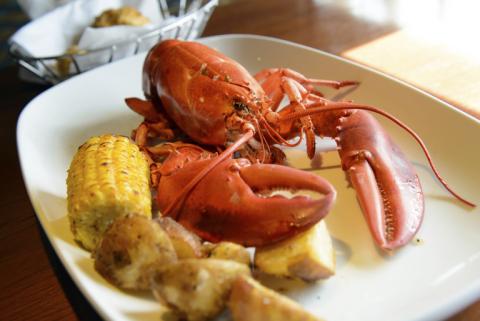 The Lobster Dinner Cruise is a 5-8 pm sunset cruise on Friday, August 18th, plying the scenic coastline of Long Island Sound, with views of lighthouses and Fishers Island Sound coastline. If it's a nice night, the experience is hard to beat – you can help hoist the sail, then settle in for a surprisingly generous dinner – clam chowder, a steamed lobster with drawn butter, and dessert. (Grilled chicken and vegetarian options are also available.) It's a big schooner (110'), so don't expect to be alone, but the crowd, the captain and the crew get consistently great reviews. Children 5 and over are welcome. $95 per adult (13+) and $47.50 for children ages 5-12.
If you want to make a full weekend of it, there is a Sunday Brunch Cruise on August 20. Lobster Cruises are also offered on additional dates, including August 25 and 26. See www.mysticwhalercruises.com or call for schedule and availability.
One additional tip: those arriving from Long Island can take the Cross Sound Ferry passenger service, as the Mystic Whaler dock is within walking distance of the New London dock where the Cross Sound Ferries arrive.