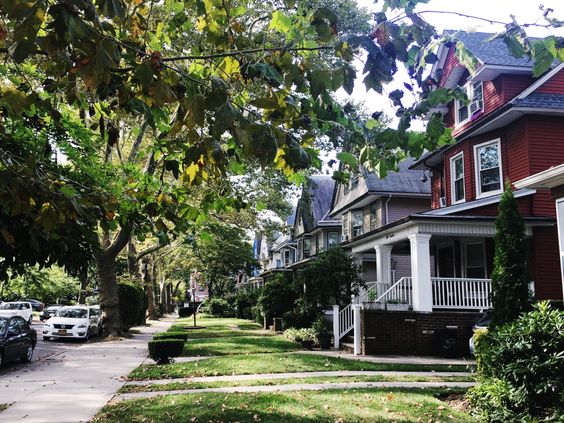 Finding the ideal home or apartment to rent can be tricky. Even though there's less financial commitment than with buying, you're still selecting a place that will be home, sweet home, for what could be years. That's why you want to make sure that the property, as well as the neighborhood, suits your needs. Keep an eye out for these neighborhood red flags; they'll help you figure out what it's really like to live there.
1. The overall rental market
Do you see a plethora of properties sitting vacant? That can be a worrying sign, says real estate investor Brian Davis, who teaches courses in rental investing at SnapLandlord.com.
"Healthy neighborhoods should have only a handful of vacant properties at any given moment, even if they are being marketed for rent or sale," he says.
When you're browsing listings, pay attention to how many apartments are actually up for rent. If the number seems suspiciously high, the neighborhood could be a real dud.
2. The condition of other properties in the area
If you see too many homes in obvious disrepair that aren't being renovated, it means the properties in the neighborhood aren't worth fixing up, Davis says.
Also, watch for the general level of upkeep among homes in the areas. Eyesores worth paying attention to are trash on the lawn or sidewalk; blinds or curtains hanging outside of the window; cars parked in the yard; and holiday decorations up year-round, says Roslyn Lash, an agent with Realty Select in Rural Hall, NC.
3. The commercial property scene
You want to see most of the commercial spaces occupied with healthy-looking businesses, says Davis. This not only reflects well on the vibrancy of the market, it can also make your life easier when you have grocery stores, restaurants, and other amenities close by.
On the other hand, you also want to make sure there's not too much of a good thing, notes renter Shane Lee, who lives on the Lower East Side of New York City.
"While it's convenient to live in a neighborhood full of restaurants and bars, don't forget you will also have to deal with the trash and noise," he points out, adding that his apartment often smells just like the restaurant downstairs.
4. The area's crime rates
Before you sign on the dotted line, make sure you check out how prevalent crime is in the neighborhoods you are considering. A few resources that will give you the 411 are AreaVibes, SpotCrime, and NeighborhoodScout.
5. 24/7 activity on the streets
In addition to touring the property on a Saturday afternoon, it's smart to take a look at the neighborhood at different times of the day.
Check for daytime loiterers, Davis advises.
"It's a good sign to see neighbors shooting the breeze in the evening, but think twice if you see a pack of unemployed-looking people just hanging out on the street in the middle of the day," he says.
Visiting the neighborhood at night can give you a sense of how safe you'll feel—and, of course, what the noise levels are.
Lee has one other practical tip: look down. He was annoyed by all the dog waste near one apartment he was considering: "It made me feel that the neighborhood was dirty and residents there didn't really care about hygiene or how other people feel."
6. The scoop from neighbors
Finally, seek out neighbors to really get the scoop beyond what you read on the property listing. If you don't run into any people, quiz the landlord or ask for some references.
"Talking to people who live there is a sure way to gain inside knowledge about the neighborhood," notes Lash. "You'll also get a good idea of whether people are short-timers, which could be a red flag in itself."
For this article and more visit Realtor.com