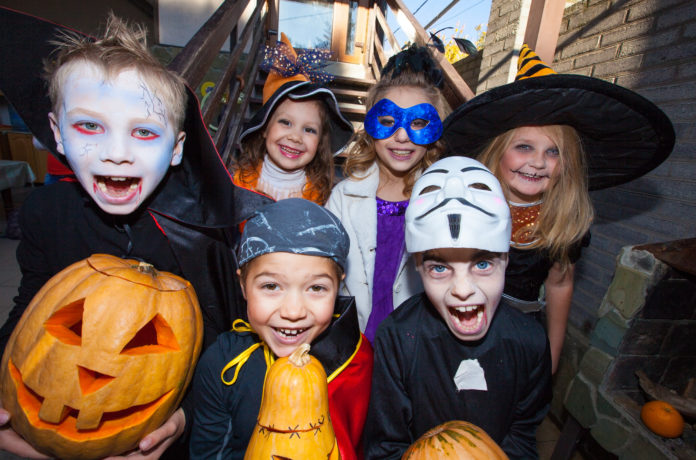 Here is a list of this year's Long Island Halloween parties and events ~ Have fun getting spooked!
Rise of The Jack O' Lanterns
More than 5,000 hand-carved and illuminated jack o' lanterns creatively displayed on a festive walking path as Halloween-themed music fills the air. The incredible pumpkin carvings will wow you! Definitely a cut above the rest. Old Westbury Gardens, 71 Old Westbury Rd., Old Westbury. therise.org Prices vary. 6-10:30 p.m. Oct. 19-22, 26-29.
This Is Halloween
Featuring a variety of DJs, bands and spooky visuals, you don't want to miss out on this night of local talent and fun! 89 North Music Venue, 89 North Ocean Ave., Patchogue. 89northmusic.com $10. 7 p.m. Oct. 19.
Halloween Horrorthon
Grab your favorite Halloween candy and head over to this frighting film fest! Six terrifying flicks will unreel in one night, including House of 1,000 Corpses, Halloween III: Season of The Witch, Scream, Blacula, Scream Psycho III and Tourist Trap. That's some bone-chilling celluloid. Cinema Arts Centre, 423 Park Ave., Huntington. cinemarartscentre.com $40-$45. 10 p.m. Oct. 21.
Pumpkin Park
Go trick-or-treating at one of Long Island's most popular amusement parks! This attraction offers a boo-tiful display of pumpkins, hair-raising rides and loads of family fun. Free parking and admission for the weekend, but ride prices remain the same. Adventureland Amusement Park, 2245 Route 110, Farmingdale. adventureland.us 11 a.m. Oct. 21, 22.
Halloween Paint Party
Rumored to be haunted, Katie's bar will be hosting a paint party! Uncork your creative side and make Halloween-inspired glassware. Katie's of Smithtown, 145 West Main St., Smithtown. katiesofsmithtown.com $30. 5-7 p.m. Oct. 22.
Halloween Boat Burning
Come watch a Long Island Halloween tradition! A large wooden boat is set ablaze, making the occasion LI's largest aquatic bonfire. Live entertainment, snacks, raffles and a chance to win a new wooden boat! Talk about "fire on the water!" Long Island Maritime Museum, 88 West Ave., West Sayville. limaritime.org $5. 5 p.m. Oct 27.
Masquerade Ball at the LI Aquarium
Throw on a mask and dance the night away in a evening full of Halloween festivities. Open Bar, DJ and prizes awarded to the best dressed attendee! Long Island Aquarium, 431 East Main St., Riverhead. longislandaquarium.com $69.95. 21+ 8 p.m. Oct. 27
It's A Halloween Party!
Grab your costume and get ready for a night of great food, music and dancing. There will be a DJ, buffet and prizes awarded for the best costume. The Snapper Inn, 500 Shore Dr., Oakdale. thesnapperinn.com $40. 7 p.m. Oct 27.
Costumes and Cocktails
Hors d'oeuvres, great music, dancing and dessert! The winner of the best Halloween costume will be awarded two free tickets to the Country Club's renowned New Year's Eve party along with a room at the Melville Marriott. Woodbury Country Club, 884 Jericho Tpke., Woodbury. woodburycc.com $55. 8 p.m. Oct 27.
Halloween Ball
Come in costume to venture through Dante's Inferno in the Hempstead House followed by dinner and a cabaret performance of The Seven Deadly Sins. Conclude your evening by dancing to the terrific tunes of the mansion's organ. Sands Point Preserve, Hempstead House, 127 Middle Neck Rd., Sands Point. sandspointpreserveconservancy.org $170. 7-11.55 p.m. Oct. 28.
The Rocky Horror Picture Show
This over-the-top B-movie classic never goes out of style. Everyone's favorite freaky scientist, Dr. Frank N. Furter, is back and he's opening the doors of his mansion just in time for Halloween. The Patchogue Theater for Performing Arts at 71 E Main St, Patchogue. patchoguetheatre.org $20-$30. 8 p.m. Oct. 28
Halloween Fun Festival
Molloy's Madison Theatre is transformed once again for the 5th annual Halloween Fun festival! With a haunted house, pumpkin picking, custom-mask making, costume contests, cupcake decorating and live entertainment, there is no better way to get into the Halloween Spirit! Madison Theatre at Molloy College, 1000 Hempstead Ave., Rockville Centre. madisontheatreny.org $10 11 a.m.-4 p.m. Oct. 28.
History Unearthed
Beware of ghosts on this historical walking tour of Sag Harbor's oldest burial grounds! Pre-registration and prepayment is required. Sag Harbor Whaling & Historical Museum, 200 Main St., Sag Harbor. sagharborwhalingmuseum.org $20. 2 p.m. Oct. 28.
Bats, Barnacles, & Broomsticks Halloween Party
Trick or treat throughout the aquarium in a day filled with family fun! Long Island Aquarium, 431 East Main St., Riverhead. longislandaquarium.com Free with Admission 10 a.m.-4 p.m. Oct. 28.
Barkfest
Get your furry friend in on the Halloween fun at Long Island's Largest Pet Costume Contest and Parade. Judging begins at 2:30 p.m. Participants are encouraged to bring pet food donations. Harry Chapin Lakeside Theatre, Eisenhower Park Field 6, Hempstead Tpke., East Meadow. Free. 1-4 p.m. Oct. 28.
Mesita's Annual: Dia De Los Muertos
Salsa and cerveza will be flowing on the Dia de los Muertos, a holiday originating in Mexico and celebrating passed loved ones. Special tastings provided by Modela Negra, Don Julio, Corona, and Modelo Especial. Mesita, 212 Merrick Rd., Rockville Centre. $25. 11:30 a.m.-3 p.m. Oct. 28.
Great Jack-o'-Lantern Spectacular Sail
The first 50 carved pumpkins will be lit with candles, placed on floats and sent sailing around Belmont Lake at dusk. In addition to the main event, there will be a kid-friendly haunted house, trick or treating, Halloween-themed arts and crafts and other attractions. Belmont Lake State Park, Southern State Parkway, Exit 38, North Babylon. $8 parking, free with Empire Pass. 3-6 p.m. Oct. 28.
Halloween Costume Ball
Calling all ghosts and goblins! Come show off your most creative costumes. There will be a DJ, dancing, Halloween buffet, desserts and prizes for best costumes. Windows on the Lake, 235 Lake Shore Rd., Lake Ronkonkoma. windowsonthelake.com $64.95 8 p.m.-12 a.m. Oct 28.
Halloween Party
DJ Mike Savage and DJ Move will be spinning spooky tunes while costumed revelers compete for $2,000 in prizes. Talk about a bloody good time! Mulcahy's Pub and Concert Hall, 3232 Railroad Ave., Wantagh. muls.com $40. 9 p.m.-11 p.m. Oct. 28.
Grand Halloween Parade
"Apply for a chance to participate in local's favorite Halloween parade and take home the $500 first place award! Or come by and watch the fear inspiring floats go by in Downtown Riverhead. halloweenfestriverhead.com Free 6:30 p.m. Oct. 28. 
Nightmare on Main Street
DJ Jester will get the ghouls and goulettes dancing while bartenders pour specialties such as caramel apple martinis in the preamble to the annual costume contest. Library Café, 274 Main St., Farmingdale. lessings.com Free. 9 p.m. Oct. 28.
Halloween Party
Featuring local rock band Sunburst Jalopy and friends this Halloween party will have lots of spirits! Mr. Beery's, 4019 Hempstead Tpke., Bethpage. mrbeerys.com 9 p.m. Oct. 28.
Halloween Costume Party
Show off your costume and your dance moves while listening to some of NY's top DJ's! Ladies enter free until 12. Club Oasis, 250 Post Ave., Westbury. $10. 10 p.m. Oct. 28.
Halloween Cruise
Featuring a costume contest as well as a chance to explore Bug Lighthouse, this two hour cruise is adorned with ghoulish decorations and Halloween surprises. Adult version Saturday, family friendly version Sunday. East End Seaport Museum, 103 3rd St., Greenport. eastendseaport.org $10-$49 4-6 p.m. Oct. 28, 29.
Halloween Parade
March in costume along Lake Avenue to the St. James Gazebo where judges will reward the best dressed. Begin the festivities by lining up in the parking lot of the former Capital One Bank at 12:30 p.m. at the corner of Woodlawn and Lake Avenues in St. James. Goody bags for all. You are invited back to the Deepwell's Haunted Mansion afterward where your scary costumes may even give the ghosts a fright! stjameschamber.org Free. 1 p.m. Oct. 29.
Rocky Horror Picture Show
Come for the movie, stay for the Halloween after-party and character themed costume contest. Suffolk Theater, 118 E. Main St., Riverhead. suffolktheater.com $12.50. 7:30 p.m. Oct. 29.
Coffin Race
Show off your supernatural speed in the first annual Halloween Fest Coffin Races! Gather a team of five and start designing your coffin for a chance to win prizes for "best themed" and "gravekeeper's choice" . Check in is at 1 p.m. for racers. Pre- registration required by Oct. 20. . Griffing Avenue, Riverhead. $20 3 p.m. Oct 29.
For this article and more visit Long Island Press.